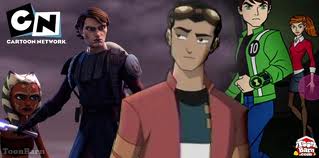 Welcome to the Friday Night of Action Wiki
Edit
This is for people who want to talk about the action cartoons on Friday night on Cartoon Network, as listed below.
Generator Rex -- Young Justice -- Batman Brave And The Bold --Ben 10: Ultimate Alien -- Star Wars The Clone Wars -- Thunder Cats -- Lego Ninjago
information and screen shots are welcome.Speculation is welcome.Fan art is welcome or fan fiction, if it is clearly marked as being fan art or fan fiction, and not cannon.
Suggestions or questions?
Edit
There's a help desk forum under the community tab, or contact me ( jadiofeternity..I'm an admin helping to get things organized here) or contact the founder Hrosebud5 who is the boss of this wiki and gets final say on everything. You can leave us a message on our talk page, for help or suggestions or just to say hello.
I Should have called it,"Friday Night Of Action"
Edit
EDIT: as of Dec 23 this wiki's site name has been changed to "Friday Night of Action Wiki."
This wiki is for things on Cartoon Network that come on Friday that are action.
Feel free to make characters or add information or pictures, edit, and feel free to other things Related to Friday Night on Cartoon Network, and Action.
You can add anything related to:
Latest activity
Generator Rex Happening: On Thanks Giving Day,Ben10/Generator Rex:Heroes United came on,Generator Rex;Agent Of Providence first been sold November 1,new games on Cartonnetwor.com/north asia,Generator Rex Nanite Runner,and many more
Community content is available under
CC-BY-SA
unless otherwise noted.