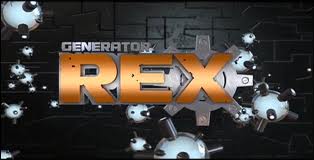 this page is work in progress, and will eventually serve as a place to link all other pages relating to this show...the characters, the episodes, the fans, the photos, etc.
The Generator Rex show Airs on Cartoon Network at 8:00 pm central time (11:00 pm Eastern time)
Generator Rex is about a 15 year old typical teenager named Rex Salazar. He can make various machines out of his body as weapons and other sorts of things.
The world is infested with tiny machines called Nanites. In the nanite event, the scientists created the nanites. The scientists are Caesar Salazar, Rafael Salazar,Violeta Salazar ,Dr. Gabriel Rylander, Peter Meechum, and Van Kleiss. It caused an explosion, Rex's powers made that happened. The nanites went in every living thing on earth. Sometimes, they turn into monsters. They call that an E.V.O. Which means Expodentially Varigated Orgnisms. Some of the E.V.O.s can be incurable but most most of them are curable.
Most nanites that are regular are the color of yellow. But Rex has two nanites. One is the blue nanites he had got injected by all the scientists and the Omega 1 Nanite got injected by Dr.Gabriel Rylander.
There are many kind of E.V.O.s. There animal E.V.O.s,Incurable E.V.O.s, and many more.
Rex also has other abilities like curing E.V.O.s, healing factor, acrobatic, human durability, and much more.
The main characters are Rex Salazar, Caesar Salazar, Black Knight, Dr.Holiday, Agent Six, Bobo Haha, Noah Nixon, White Knight, Van Kleiss, Skalamander, Bio Wulf, Breach, Beverly Holiday, Jungle Cat E.V.O., and Circe.
This show is created by the Man Of Action. The Man Of Action also created Ben 10, Young justice, Batman, and Teen Titans.
Generator Rex first came out on April,23,2010. They are currently doing season 2. Season 1 and 2 are supposed to have 56 episodes in all. Said in Las Vegas with one of the guys from Man of Action, who plays Ben Tennyson.